Thor: Love and Thunder have a teaser trailer, and it's finally here, thanks to Marvel. This much-anticipated sequel to Thor: Ragnarok (the movie that ranked #1 on our entire MCU movie list) is a brightly colored burst of positive feelings, Marvel Comics Easter Eggs, and allusions connections to prior Thor adventures. Waiting for this was worth it.
Even greater cosmic scope, with no sign of the scary adversary lurking in the shadows for our heroes. There's lots of humor in this story. Even though it's only 89 seconds long, fans of the books and Marvel Studios will find enough to take in.
Look at Thor: Love and Thunder's trailer above, and then join us as we dissect it.
Let's take a closer look at this. Instead of proceeding in chronological sequence through the trailer, we'll try to combine things when/where they make sense. Please let us know if you see something we've overlooked in the comments section below! We'll let you know as soon as we learn more.
Comics Accurate Thor Costume
The trailer begins at the beginning of this section. In addition to Steve Rogers' "Star Spangled Man" outfit from Captain America: The First Avenger, Richard E. Grant's "Classic Loki" from Loki, and most recently the ultimate version of Spider-suit Man's in Spider-Man: No Way Home, this is another beloved "classic costume design" from the MCU. In part, since this is the first time we've seen a live-action MCU Thor suit based on Jack Kirby's design in action.
"Strongest Avenger"
This isn't necessarily an Easter egg, but he's wearing a cap in the Endgame trailer when Thor uses the shackles of some gigantic, imprisoned underground behemoth (perhaps one of the Titans from Greek mythology?). That reads "strongest Avenger." This isn't necessarily an Easter egg. We all need a little encouragement while attempting to get in shape again.
Aside from its retro look, this hat bears an uncannily similar typeface to that used in most Marvel Comics and MCU marketing for most of our lives.
Thor's New Look
This is a fantastic outfit for Thor, and it's possibly the greatest one he's ever worn in a live-action film. The gold trim is reminiscent of Mike Del Mundo's "God of Thunder Reborn" design from the final Thor comic book volume written by Jason Aaron. But most importantly, this is a new outfit and one of the best MCU costumes in a while. Please add more color to the costumes of superheroes! So, let's go on…
Stormbreaker and Thanos
If you think about it, Thor burying Stormbreaker and walking away from the scene is relatively meaningful, as that's the weapon he used to murder Thanos, which exacerbated the sequence of events that led to the depressing start of Avengers: Endgame.
Also, it evokes the "scarecrow" Thanos armor that the villain erected after Infinity War when he thought his mission was complete.
Thunderstrike Ravager Thor and Korg
Oh? You've got it backward! What, did you believe we were done with fresh Thor appearances?
First and foremost, Korg looks fantastic as a Masters of the Universe action figure in this photo. It's also improbable that there isn't a third individual in the left-hand corner of this picture intentionally left out. Since we meet Jane later in the trailer, it's unlikely to be her, so who might it be? Beta Ray Bill? Hercules? The Duck Who Roared? Tell us what you know!!!
According to the trailer's introductory voiceover, Thor has decided to retire from the superhero lifestyle, although he has regained his superhero physique. Toy releases have called this appearance "Ravager Thor"
Because of the tremendous abstract pattern on his shirt (which I'm not 100% sure is the World Tree and a map of the Nine Realms) and the sleeveless vest he's wearing here. Yes, you can see a nod to Jack Burton from Big Trouble in Little China in this.
In addition, there's a distinct resemblance to a Thor comic from a bygone era…
In the early '90s, Thor was no longer Donald Blake, and the God of Thunder's mantle was handed on to a construction worker called Erik Masterson. This transition was over, but Masterson kept part of his almighty strength and continued as Thunderstrike in a sleeveless jacket that looks more than a little like the one Thor is sporting in this teaser.
Thor's Eyes
Isn't it beautiful? Star-Lord isn't so sure. In any case, that's not why I'm writing about it. Heterochromia appears to have been "corrected" when he obtained his new eye in Infinity War, whatever modifications Thor has been going through.
Gorr The God Butcher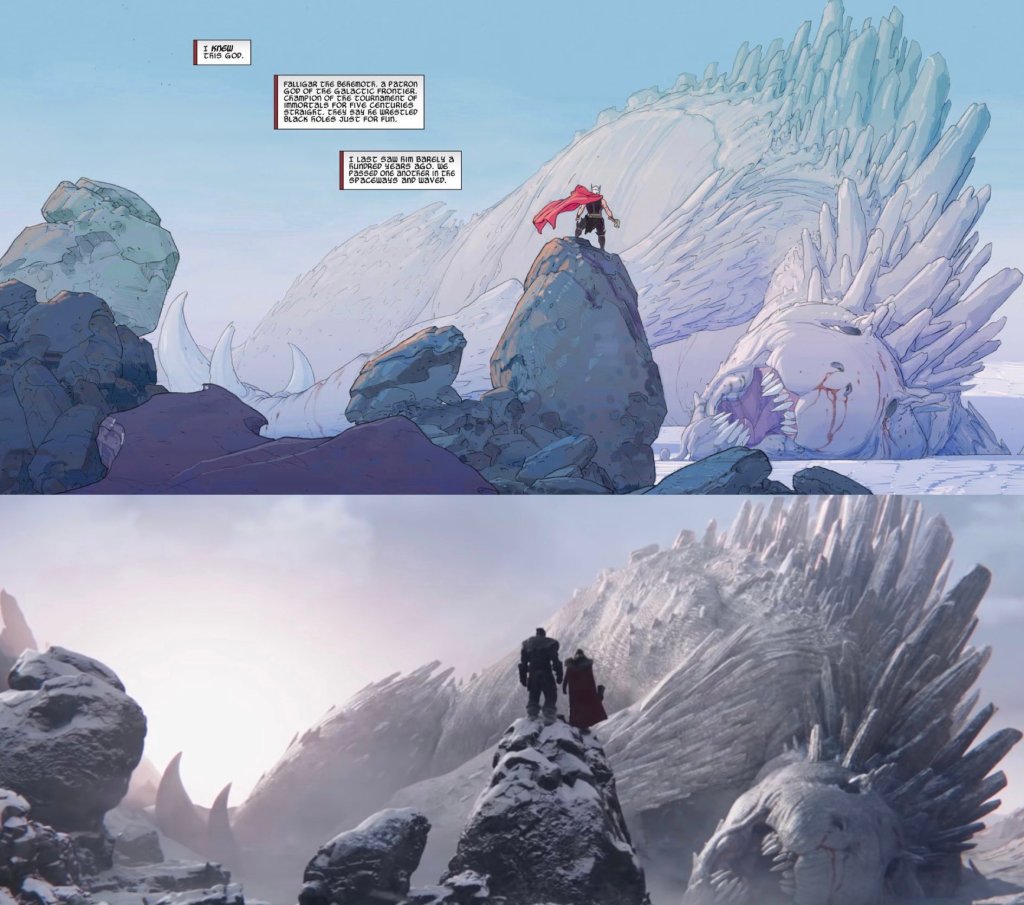 Gorr, the God Butcher, starring Christian Bale, is… This is absent from the trailer. Not in a formal capacity, at least. However, his work is impressive (and we'll come to another time shortly). A replica of this panel can be seen in Thor: God of Thunder #3 by Jason Aaron and Esad Ribic, the issue that introduced the world to Gorr and served as an influence for Thor: Love and Thunder.
That which has fallen is not a beast but a dead deity. This is Falligar the Behemoth. When Thor first learned of Gorr's ruthlessness and began chasing the God Butcher throughout the galaxy, he came upon a trail of slain deities that led him to uncover him.
Even though this picture looks great, I hope Esad Ribic is being compensated.
New Asgard
New Asgard, as expected, has become a popular tourist destination. Are those ships in the distance part of the "Viking Cruise" fleet? In addition, is it just us, or does the New Asgard Tours logo appear like the old hammer and sickle? So, if that's the case…um…read the room?
King Valkyrie
Tessa Thompson is back as the new King Valkyrie of New Asgard. She's "entertaining" a group from another country, a chore grating on her martial spirit. We're very sure she'll have enough to do in this film, and…wait a second…is that…Miek?!?
Natalie Portman is Jane Foster as Thor
Jane Foster is returning to the Marvel Cinematic Universe as the new God of Thunder. There is little doubt that Jane's Thor appearance has been achieved in this one photo, as defined by Russell Dauterman.
Also, Natalie Portman's cleavage is out of this world. It's great to see a Thor eager to don the winged helmet on-screen for the first time.
Also, there's a chance that this photo contains yet another indication of Gorr the God Butcher. There's a war going on in the backdrop, but it's impossible to determine what's generating the turmoil.
At times, it seems like odd, tentacle-y kind of stuff. Were Gorr's Black Berserkers unleashed of their own accord? We'll find out one way or another in the end. There's no doubt that the next trailer will focus on the film's villain rather than the positive sentiments we received today.
Mjolnir Reforged
That it's not a fresh Mjolnir or a flawlessly reconstructed Mjolnir is a lovely touch. Instead, it's a Mjolnir that bears indications of Hela's previous devastation in Thor: Ragnarok, and it's still bursting with cosmic energy. Isn't the person who is holding it essential?
Russell Crowe as Zeus
Everyone, please welcome Russell Crowe as Zeus to the Marvel Cinematic Universe! The end. That's everything for now. However, that's not quite the case…
Besides hinting at some thunder god on thunder god action with Thor (who is undoubtedly in need of a father figure these days), Crowe's presence as Zeus might (if we're lucky) signal the debut of another character with a far more profound relationship to Thor, Hercules. The Marvel Cinematic Universe has never been better with Hercules and Thor's continuing feud.